Mission & Values
The Downtown Dover Partnership drives business and job opportunities, growth of economic and cultural assets, and development of commercial and residential real estate, while preserving the City of Dover's historic qualities, consistent with the National Main Street model.
Our Vision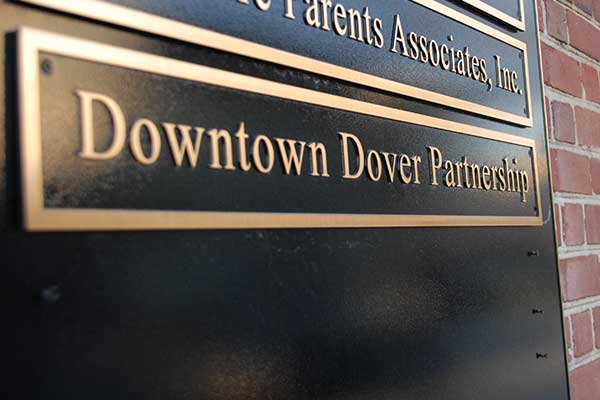 By the year 2011, Downtown Dover would be a destination having a mix of business "that makes you want to come and spend time." People would come to Downtown, go to a museum, have a nice meal, stroll and visit on Downtown's sidewalks, sit at outdoor cafes, and be able to shop at unusual stores. Downtown would offer numerous and varied "things to do" and all of the Downtown's buildings would be filled with prosperous businesses. As a result, Downtown's sidewalks would be filled with a great variety and number of pedestrians who feel excited -- and even lucky -- to be there.
Downtown's historic buildings would be saved, preserved and would "look good." Downtown's variety of architectural styles would be appreciated and respected, so that Downtown is not "homogenized." Owners would be required to keep-up their properties. New, infill buildings would be encouraged and would blend with and complement the old- so that "they match the town's design." This would be very important since "we have a long history and should make that a selling point."
The arts would be encouraged in Downtown. Downtown would offer a greater diversity of art choices, including film festivals, fine arts, plays and music. The media would embrace and feature all art and entertainment activities occurring in Downtown. More money would be put into the Schwartz Center for the Performing Arts to ensure that its shows and performances are "user friendly." Downtown would have a variety of restaurants that are open in the evenings -- and "not just lunch places"- so one could go to the Schwartz and out to dinner.
Downtown would offer recreational activities for children and families. The St. Jones River would be made a destination. And, Downtown would have more of and "educational presence," possibly in the form of a learning annex that offers a plethora of varied classes for all ages.Downtown would have "a tremendous increase" in the number of apartments, condos, and homes that appeal to a wide variety of ages and income groups. There would be more apartments and condos above shops. The New Street area would be revitalized, safe, and clean. And, Downtown would have convenience businesses that serve its residents, such as food markets.
Downtown would be safe and trash-free. Police officers would be visible, walking the streets. Downtown business owners would act responsibly and clean their windows, entryways, and walks regularly. Storefronts and display windows would be attractive and appealing. And, utility lines would be buried underground.
Downtown would be aggressively marketed -- to "get the word out that there's a lot here". Downtown's image would be very positive and appealing, making residents and tourists want to spend time there.
Downtown would be enhanced as a mixed-use area, which includes:
Restaurants - varied, not chain, lunch and evening, outdoor cafes
Retail shops - varied, unusual, high quality, range of prices
The arts, entertainment, and nightlife
Professional offices
Government facilities - including a regional library and the post office
Housing
Convenience businesses serving residents and workers of Downtown
Activities for kids
Convenient parking - and "interesting" things in between parking areas
A hotel
Education and
Outdoor space
Downtown's mixture of uses would appeal to and attract a variety of users, including:
Residents - of Downtown, Dover, and the County
Downtown workers
Students
Area tourists
Route 13 shoppers
Kids, families, and seniors and
People of all cultures