Painted Crosswalks
Creative Placemaking in Downtown Dover!
Congratulations to Katherine of Milton, DE for being selected as the winning artist for the Crosswalks Pilot Project! Sign up for updates on future opportunities to submit art, judge, and/or paint the designs.
View selected artist, Katherine's art at heisk.com.
Directory
---
Why are there rain dates?
The material requires that there is no rain within 24 hours of painting. We must offer flexibility to ensure proper application!
Be sure to check for updates on dates, times, and any cancellations.
Information for Volunteers
The paint washes off of skin easily with water!
Paint will stain your clothes and it will be a gritty sand-paper-like stain.
Wear clothes and shoes you don't mind getting stained.
If planning to stay all day - bring a drink & snack, hat, sunscreen, and a cushion to kneel on. It will be a long, hot day in the sun on hard asphalt!
---
---
From 10 a.m. - 3 p.m. at S. South St. and W. Loockerman St.
The previous date of Saturday, Sept. 30 was rescheduled to account for inclement weather predicted for Friday, Sept. 29.
Artwork at this intersection was inspired by
Breakfast Club
by
Edward Loper II
(2022), a celebrated artist native to Delaware. The reference image was purchased during a
Delaware State University
Arts Center/Gallery exhibition, "Edward Loper II: The Journey of Perspective, Oct. 3 - Nov. 18, 2022" by the accredited
Biggs Museum of American Art
for their permanent collection.
Thank you for a successful day of painting! Visit the freshly painted crosswalk next time you are on Loockerman St.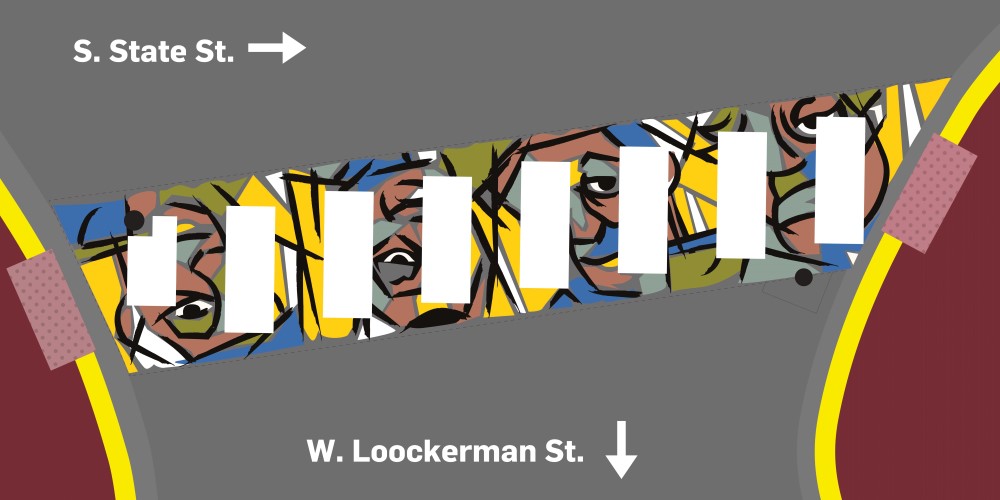 Submitted design for the crosswalk.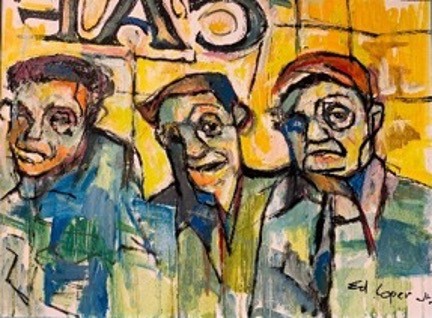 Original Artwork
Breakfast Club by Edward Loper II (b. 1934)
2022. Oil on canvas. 18x24 inches.
Biggs Museum of American Art Purchase, 2022.8.1
From 8:30 a.m. - 1 p.m. at S. Queen St. and W. Loockerman St.
Artwork at this intersection is a geometric zig-zag/accordion pattern. The design playfully adds-on to the existing striping for a more lively and colorful crossing.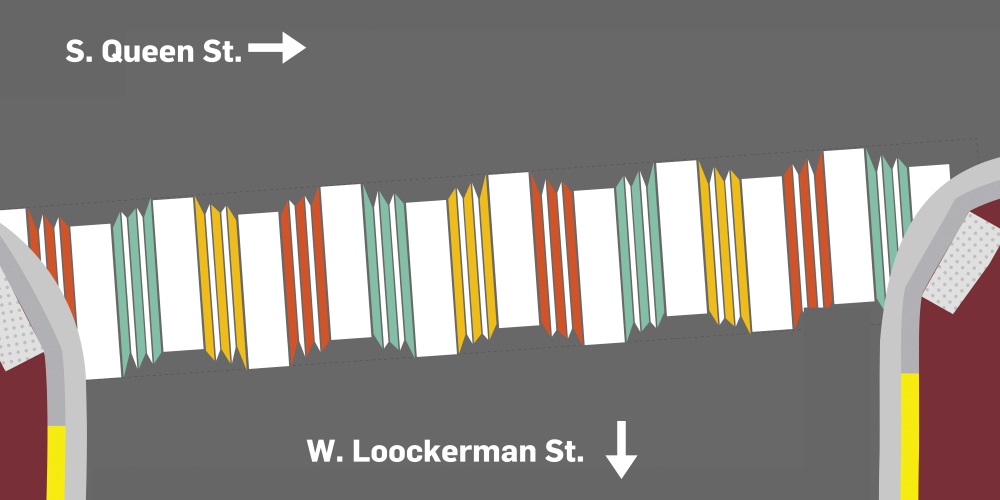 Submitted design for the crosswalk.
---
The painted crosswalks pilot program reflects a goal in the Capital City 2030: Transforming Downtown Dover master plan by the Downtown Dover Partnership to implement creative placemaking strategies in downtown Dover and to engage the art community.
The pilot will start with two intersections downtown, developing a process of doing so, and then expand to include additional locations. Artists were asked to submit a proposal for a painted crosswalk in Downtown Dover.
Design submissions were reviewed through a juried selection process. The winning artist was then be asked to provide complete designs for two intersections (templates to be provided) and will work alongside the Project Team and DelDOT to ensure the final design is approved for painting. Upon completion, the winning artist will receive a $500 honorarium for their work.
Note: The winning artist is not required to participate in painting the crosswalks on the day-of actual implementation on roadway. The community will be invited to help paint, and the artist can choose if they would like to attend.
---
Artists may submit design proposals through Monday, August 28th.
A juried selection process will take place, with invited judges representing the Biggs Museum of American Art, Delaware State University, Downtown Dover Partnership, the Delaware Divison of the Arts, the Dover Art League, DelDOT, the City of Dover, and Project Leader, Randi Meredith.
The selected artist will be contacted no later than Friday, September 1.
The artist must complete a final design, addressing any concerns in color, design, or other required changes by Friday, September 15th.
Dates for painting will be selected by DDP. Crosswalks will be painted under supervision by community members with a target date of completion by/before October 31, 2023.
This page will provide updates about the project.
---
View the application online or download the printable copy for a complete list of design parameters, including a template providing a scaled reference for one of the intersections, S. State St. and W. Loockerman St. Artists are welcome to submit multiple designs, if preferred.
Designs will:
Be submitted in any medium, but be aware that the crosswalk art will be installed in solid colors.
Allow some flexibility for shapes.
Contain no words or traffic instructions.
Not cover the existing white crosswalk striping. Please consider the incorporation of the existing crosswalk markings in your design.
Have a maximum of six pantone colors (the traffic paint cannot mix.)
(Optional) Reference the images provided by the Biggs Museum of American Art.
Work for at least two locations, with replicated or altered designs/coloring. Note: only one design is required at this time, with the understanding that two intersections will be completed.
Capture the design concept. In other words, artists may submit a partial design if this amount effectively portrays their concept.
Be a high-quality scan or photo submitted in the application. If you are unable to provide a digital copy, contact DDP at Jordan@DowntownDoverPartnership.com or call the office at (302) 678-2940 for assistance.
Click here to view the Painted Crosswalks Application (Ended Aug. 28) | Alt. Download
Click here for a copy of the TEMPLATE ONLY. | Alt. Download
---
Sept. 30: Intersection of S. State St. & W. Loockerman St. Search "1 W. Loockerman St. Dover, DE 19901" for convenient navigation.
Oct. 14: Intersection of S. Queen St. & W. Loockerman St. Search "394 W. Loockerman St., Dover, DE 19904" for convenient navigation.
---
Examples
Crosswalk examples that incorporate crosswalk marking into design available here.
---
Funding for the painted crosswalks pilot program in Downtown Dover was provided by the Delaware Division of Arts.
---
Questions? Contact Jordan@DowntownDoverPartnership.com or call the office at (302) 678-2940.