First Saturday
First Fridays is now First Saturdays!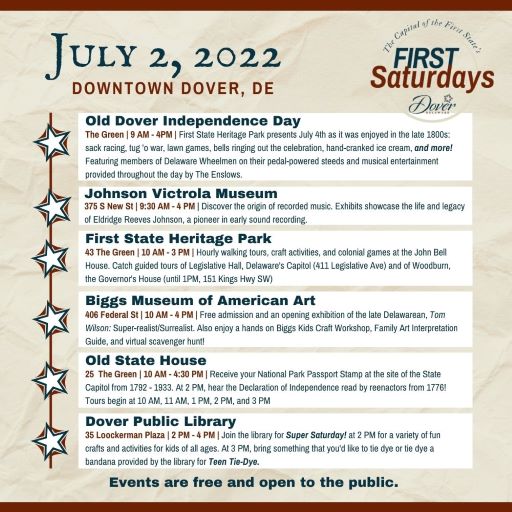 After many years of First Fridays events led by various Dover non-profit organizations, the event has now transitioned to Saturday. Come and see downtown on Saturdays, including events at parks, museums, and the Dover Public Library. And as always, check in with your hometown merchants, coffee shops and restaurants on First Saturday to round out your Saturday adventure. For added value shopping downtown, be sure to get your Capital Key!
Follow us on Instagram at Downtown.Dover
Follow us on Twitter at Downtown_Dover
Follow us on Facebook at Facebook.com/groups/DowntownDover and Facebook.com/DowntownDover
---
This Saturday (July 2, 2022) in Downtown Dover...
Merchants
Many of our downtown merchants will be open on First Saturday, so be sure to stop in to buy their latest products and deals! Please check out our Merchant Showcase to learn about even more locations to visit downtown. Want to unlock additional value? Check out our free Capital Key Program and sign up at tinyurl.com/DoverCapitalKeyReg.
Delaware Shoppes: visit 325 S State St. for "bargain basement deals" which are not actually inn the basement but are offered at huge discounts!
La Hacienda: Downtown's newest restaurant is now open at 33 W Loockerman St.! Open from 11 a.m. to 10 p.m. on Saturdays.
The DDP thanks its partners for their dedication to downtown Dover, including but not limited to: Dover Public Library, First State Heritage Park, the Biggs Museum, Restoring Central Delaware, NCALL, the City of Dover, Kent County Tourism, the DE Division of Historical and Cultural Affairs, Destination Downtown Dover, the Downtown Dover Partnership Merchant Committee, and many, many more
Any questions? Want to have your downtown event or promotion featured? Email Jordan@DowntownDoverPartnership or call at 302-678-2940.