First Saturday
First Fridays is now First Saturdays!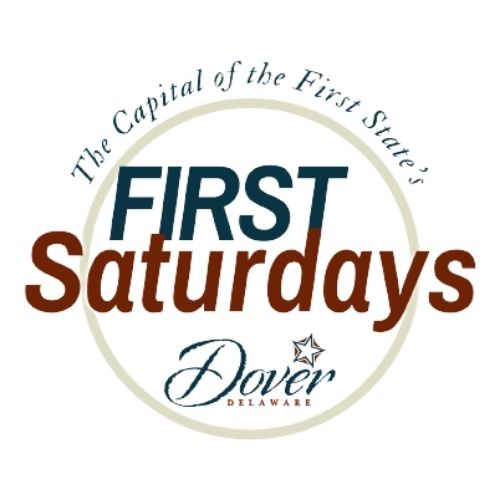 After many years of First Fridays events led by various Dover non-profit organizations, the event has now transitioned to Saturday. Come and see downtown on Saturdays, including events at parks, museums, and the Dover Public Library. And as always, check in with your hometown merchants, coffee shops and restaurants on First Saturday to round out your Saturday adventure. For added value shopping downtown, be sure to get your Capital Key!
Follow us on Instagram at Downtown.Dover
Follow us on Facebook at Facebook.com/groups/DowntownDover and Facebook.com/DowntownDover
---

---

Many of our downtown merchants will be open on First Saturday, so be sure to stop in to buy their latest products and deals! Check out our "Visit Downtown" pages to learn about locations to explore downtown.
Special Promotions
Delaware Shoppes: visit 325 S State St. for "bargain basement deals" which are not actually in the basement but are offered at huge discounts!
Want to unlock additional value? Check out our free Capital Key Program and sign up at tinyurl.com/DoverCapitalKeyReg.
New Businesses
---

Stories of the Green with First State Heritage Park
Join First State Heritage Park on walking tours that will immerse you in the history of Downtown Dover:
​"Stories of the Green" at the John Bell House - 43 The Green - 10 a.m. to 3 p.m., Hourly
"A Capitol Experience" at Legislative Hall - 411 Legislative Ave - 10 a.m. to 3 p.m.
Woodburn: The Governor's House - 151 Kings Hwy SW - 10 a.m. to 1 p.m.
More Information
---

Free Admission to the Johnson Victrola Museum
"Founded in 1967, the Johnson Victrola Museum details the origin of recorded music. Exhibits showcase the life and legacy of Eldridge Reeves Johnson, a pioneer in early sound recording and co-founder of the Victor Talking Machine Company."
Open from 9:30 a.m. to 4 p.m. at 375 S New St Dover, DE 19901.
More Information
---

Stories of Slavery and Freedom at the Old State House
At Delaware's historic capitol, visitors will hear about the trials and tribulations of members of the state's African-American communities in the 18th and 19th centuries. Highlights of the tour will include the tales of Samuel Burris, a conductor on the Underground Railroad, and the Summers family whose quest for freedom took a major step forward on one day in 1797.
Built in 1791, the Old State House served as Delaware's capitol during the United States' critical early years as a nation. With additions and modifications, the building continued to serve as the state capitol until 1933, for 141 years!
Receive your National Park Passport stamp.
Go on a guided tour at 10 a.m., 11 a.m., 1 p.m., 2 p.m., or 3 p.m.
Currently exhibiting: 'The Old State House: A True Restoration 1976-2016'
Open from 10 a.m. to 4:30 p.m. at 25 The Green Dover, DE 19901.
More Information
---

Free Admission to the Biggs Museum
Join the Biggs Saturday, August 6th for free admission between 11 a.m. to 4 p.m.
Exhibiting:
Tom Wilson: Super-Realist/Surrealist: "Delawarean Tom Wilson studied art at the Rhode Island School of Design. Living in New York and eventually Paris, Wilson enjoyed the new visibility of LGBTQ artists while working as a top fashion model of the 1970s. After returning to Lewes in 1981, Wilson built a career on rendering photorealistic architectural studies of southern Delaware before succumbing to complications of the AIDS virus in 1995. This exhibition unveils the work of this artist and the community that supported his career." (Closes October 15, 2022)
Open from 11 a.m. to 4 p.m. at 406 Federal St Dover, DE 19901.
More Information
---
Feel free to print & share a copy of the September First Saturday flyer with your friends, family, and colleagues! Download here.
---
The DDP thanks its partners for their dedication to downtown Dover, including but not limited to: Dover Public Library, First State Heritage Park, the Biggs Museum, Restoring Central Delaware, NCALL, the City of Dover, Kent County Tourism, the DE Division of Historical and Cultural Affairs, Destination Downtown Dover, the Downtown Dover Partnership Merchant Committee, and many, many more
Any questions? Want to have your downtown event or promotion featured? Email Jordan@DowntownDoverPartnership or call at 302-678-2940.
---

Navigate below to additional merchant pages.