First Saturday
First Saturdays! in the Capital of the First State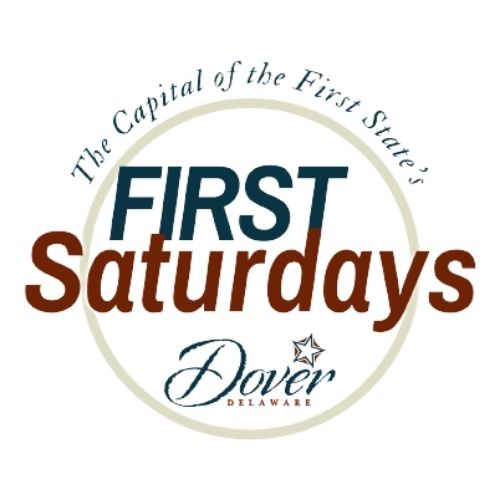 For added value shopping downtown, get your free Capital Key!
Follow us on Instagram at Downtown.Dover
Follow us on Facebook at Facebook.com/groups/DowntownDover and Facebook.com/DowntownDover
Want your event included in the First Saturday program? Complete the Participation Form to register your event!
---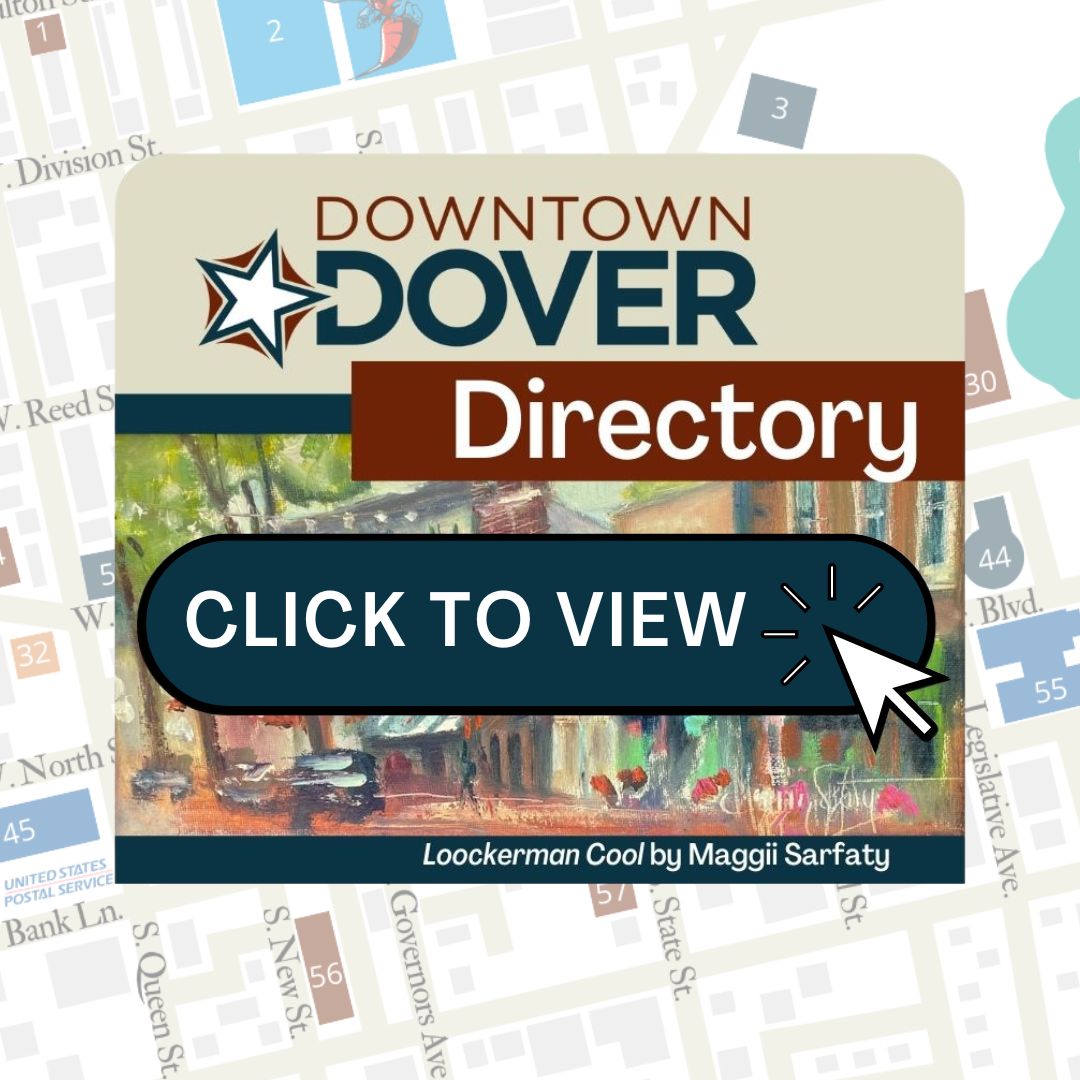 Downtown Dover Directory Map
Many of our downtown merchants will be open on First Saturday!
View 60+ downtown locations on the new Downtown Dover Directory Map - follow the link to view, download, and print a free copy!
Special Promotions
Delaware Shoppes: visit 325 S State St. for "bargain basement deals" which are not actually in the basement but are offered at huge discounts!
Want to unlock additional value? Check out our free Capital Key Program and sign up at tinyurl.com/DoverCapitalKeyReg.
---

Creature Feature! with Brandywine Zoo
"Come on down to the John Bell House Interpretive Center today from 11 a.m. until 2 p.m. for something completely different! Our colleagues from the Brandywine Zoo will be visiting, including three of their animal friends. Make sure you visit and say hello to them after their long trip down."
"The Dover Green has been the heart of this capital since its 18th-century founding. Led by a knowledgeable interpreter, experience the stories of the sites and people that have defined the F
irst State experience. There is always something new to discover each time you visit First State Heritage Park!"
Walking Tours
NEW! Self guided "Trees of the Green" tour sheets available.
Hourly from 10 a.m. to 3 p.m. from the John Bell House
Hourly from 10 a.m. to 3 p.m. from Legislative Hall
Hourly from 10 a.m. to 1 p.m. from Woodburn: the Governors Residence
Please where comfortable shoes and bring water.
Free to the public
Occurs from 9 a.m. to 4 p.m. at 43 The Green, Dover, DE 19901 (The John Bell House).
Click here to view the event on Facebook.
More Information
---
Free Admission, Art Workshop & Guided Tour at the Biggs Museum of American Art
Celebrate the first weekend of each month with complimentary admission, creative workshops, and engaging tours!
Featured Photo: Jimi Hendrix at the Golden Bear Raceway, Cal Expo April 26, 1970 by Larry Hulst.
Art Workshop
The Biggs' refreshed art workshops offers fun for the whole family through hands-on art creation for all ages. Each month, these workshops will explore different themes and media to encrouage an ongoing artistic journey for both children and adults. This month's project is: Fantastic Flowers!
Guided Tour
Gather in the lobby at 2 p.m. for a free guided tour and to learn more about the artwork featured at the Biggs. For 40 minutes, a docent will lead the group on a tour through the museum, highlighting select pieces from the collection. Docents are trained to adapt to their group's interests, providing repeat visitors with new experiences each month.
Exhibiting:
Front Row Center: Icons of Rock, Blues, and Soul- "The iconic photographs of Larry Hulst capture the freewheeling energy of live music and the enduring visual spectacle of rock's greatest performers. From Janis Joplin and Jimi Hendrix to David Bowie and Lauryn Hill, Front Row Center: Icons of Rock, Blues and Soul brings together over 70 images of legendary musicians and singers across three genres and generations. The exhibition charts Hulst's extraordinary path through the pulsing heart of the most exciting live music of the last century, showcasing a unique visual anthology of rock, blues, and soul music from 1970–1999. These images, which have been featured on album art and Rolling Stone spreads, convey Hulst's lifelong passion for the magnetism, immediacy, and unpredictability of live music. With photos that also document the unforgettable voices of funk, punk, and beyond, Front Row Center grants viewers an all-access pass to some of the most memorable performances in popular music history." (Closes June 19)
Museum is open from 11 a.m. to 4 p.m. at 406 Federal St. Dover, DE 19901.
Art Workshop Occurs from 11 a.m. to 2 p.m.
Guided Tour Available at 2 p.m.
More Information
---
Join the Dover Public Library in the Children's Programming Room for a fun craft for school-aged kids!
No registration required.
Occurs from 2 p.m. to 3 p.m. at 35 Loockerman Plaza
More Information
---

Free Admission to Johnson Victrola Museum
"Founded in 1967, the Johnson Victrola Museum details the origin of recorded music. Exhibits showcase the life and legacy of Eldridge Reeves Johnson, a pioneer in early sound recording and co-founder of the Victor Talking Machine Company."
Free Admission Occurs from 9:30 a.m. to 4 p.m. at 375 S New St Dover, DE 19901.
More Information
---

Guided Tours of the Old State House Museum
Built in 1791, the Old State House served as Delaware's capitol during the United States' critical early years as a nation. With additions and modifications, the building continued to serve as the state capitol until 1933, for 141 years!
Receive a free tour and immerse yourself in the history of early Dover!
You can also receive your National Park Passport stamp and view the current exhibition: 'The Old State House: A True Restoration 1976-2016.'
Tours available at 10 a.m., 11 a.m., 1 p.m., 2 p.m., and 3 p.m. at 25 The Green Dover, DE 19901.
Lecture for Women's History Month takes place at 1 p.m.
More Information
---
Feel free to print & share a copy of the First Saturday flyer with your friends, family, and colleagues! Click Here.
---
The DDP thanks its partners for their dedication to downtown Dover, including but not limited to: Dover Public Library, First State Heritage Park, the Biggs Museum, Restoring Central Delaware, NeighborGood Partners, the City of Dover, Kent County Tourism, the DE Division of Historical and Cultural Affairs, Destination Downtown Dover, the Downtown Dover Partnership Merchant Committee, and many, many more
Any questions? Want to have your downtown event or promotion featured? Email Jordan@DowntownDoverPartnership or call at 302-678-2940.
---

Navigate below to additional merchant pages.