Paint Dover!
Paint Dover! is a plein air painting event and art competition in downtown Dover, Delaware, with three days of painting options, culminating in an artwork exhibition, competition, and sales to the public. This year, artists and patrons alike will enjoy a French-themed exhibition of paintings on the Biggs lawn, with music and French desserts available!
The week will be capped off with an oil painting demo by plein air artist, Jim Rehak, and is open to artists and the community.
Participating Paint Dover! artists from around the region take to the streets, parks, sidewalks and outdoor cafes to participate in this annual event in the cooler fall season. Inspired by downtown Dover's architectural landscape, historic commercial buildings, gardens and scenery, artists quickly capture changing light and shadows, and the "spirit" of downtown Dover. The community is invited to watch artists paint outdoors throughout the three days, attend the exhibition, and purchase artwork. Over $1,000 in awards are presented! An extended exhibition takes place virtually and downtown.
---
This year, Paint Dover! 2022 will take place October 4-7, 2022 and registration is open!
Sign up before September 1st for a reduced rate: tinyurl.com/PaintDover2022
Until September 1st, register for $30
After September 1st, $40
College student reduced rate: $10
High students are FREE of charge but must register online.
Demo with plein air artist, Jim Rehak, is free of charge. Registration online is encouraged to prepare for attendance.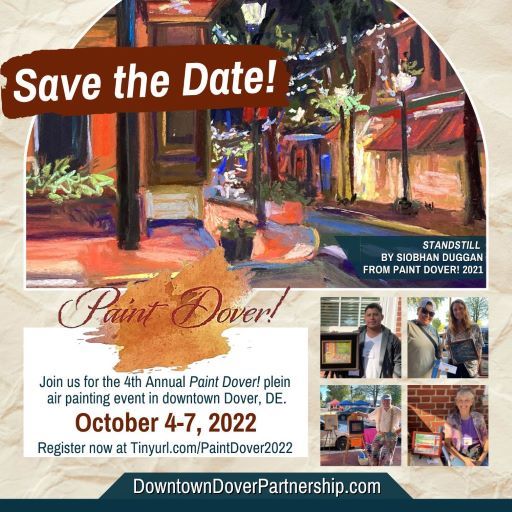 About This Event
Painting and Competition: Tuesday-Thursday, October 4-6.

NEW THIS YEAR!

Opening Exhibition "En Plein Air" at AAM Accredited, The Biggs Museum: Thursday, October 6, 5:00 - 7:00 p.m.

The opening exhibition will have a French "en plein air" theme with music, French pastries, and coffee on the lawn of the Biggs.

Demo with Acclaimed Plein Air Artist, Jim Rehak: Friday, October 7, 9:30 a.m. - Noon.

Jim Rehak will provide a plein air oil painting demonstration describing his process and approach as he paints. Attendees will meet at 325 S. State St. (The Green) for the demo to begin at 9:30 a.m. Please bring a camp chair. Light snack will be provided.

Extended Exhibition Downtown: October 12-26.
Virtual Exhibition & People's Choice Voting: October 15-31.
---
Virtual Exhibition: Paint Dover! 2021
The 2020 virtual exhibit may also be viewed. CLICK HERE.
Questions? Contact Diane@DowntownDoverPartnership.com or call 302-678-2940