Paint Dover
PRESS RELEASE
October 19, 2022
Contact:
Diane Laird
Executive Director Downtown Dover Partnership
Diane@DowntownDoverPartnership.com
DowntownDover.com
(302) 678-2940 (o)
Paintings on Exhibit in Downtown Shops
Virtual Exhibition of Paintings Now Live!
(October 18, 2022) Dover, DE. Artists from Delaware, New Jersey, Pennsylvania and Maryland converged on Loockerman and State Streets, The Green, and DSU Downtown campus during the fourth annual Paint Dover! plein air painting event, competition, and exhibition held October 4-7. The event began with stormy remnants of hurricane Ian yet the week ended with beautiful sunshine, warm temperatures, and a total of over 70 paintings. Electronic violinist Bronwyn Beth (photographed in text) provided a beautiful backdrop to the French-themed opening exhibition on the lawn of The Biggs museum, where House of Coffi and La Baguette provided pastries and coffee to attendees.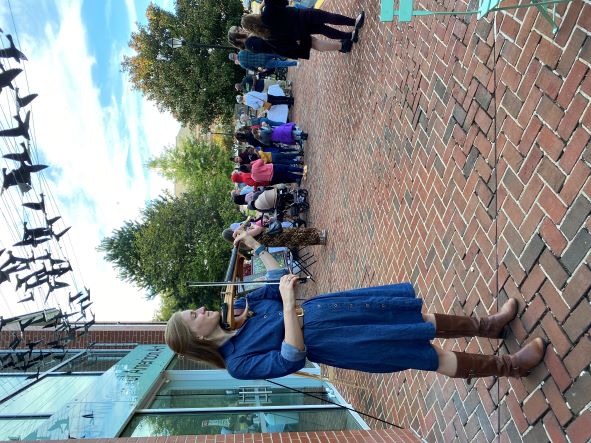 An extended Paint Dover! exhibition is now being held, both in downtown shops and virtually through October 31, with an option for viewers to select a favorite painting for People's Choice award. The virtual exhibit, best viewed on a larger screen, features all 27 artists and their more than 65 paintings created over the three days. Anyone interested in purchasing a painting may still do so through these extended exhibition venues, by contacting the Downtown Dover Partnership (DDP).
With 33 artists registered, DDP Executive Director Diane Laird "this year's event brought the most artists yet. The weather early in the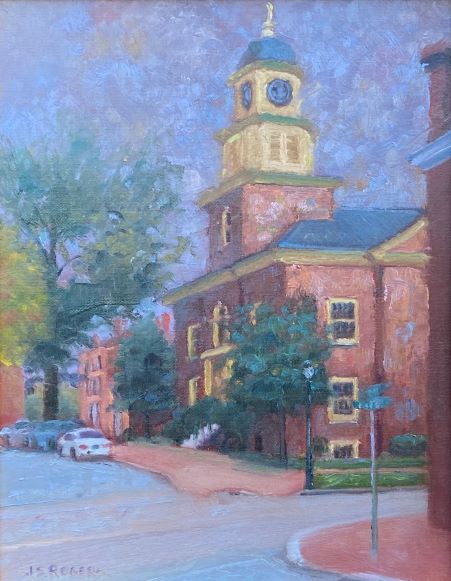 week was concerning, but plein air [outdoor] painters are not faint of heart. They withstand broad temperature ranges and windy conditions, just as they do sunshine and mosquitoes."
A variety of awards valued at more than $2,000 were presented to artists at the opening exhibition. Several of the judges included regionally acclaimed plein air artist Jim Rehak, Dover Mayor Robin Christiansen, and a team of three representatives from sponsor Del-One FCU, including Amy Resh, Heather Gunter and Brandy Buzzuto. Ms. Resh commented, "Judging the event was an amazing experience, but also difficult to choose as there were so many talented artists and beautiful artwork. This body of work really bring awareness to the beauty and history of Downtown Dover."
Bayhealth representative and judge Christopher Foard enjoyed the opportunity to get to know some of the artists while selecting three honorable mention winners, indicating that "the artwork simply drew me in." DSU's Professor Josh Nobiling selected veteran winner Katie Yost for "DSU Hornet Spirit!" - a new award this year as a welcome to the college's exciting recent acquisition of the former Welsey College campus.
Awards included:
Best in Show: "On The Green" by J. Stacy Rogers (featured in text)
Second Place: "Afternoon Coffee" by Dennis Young
Best Small Work: "On Loockerman" by Elizabeth Dorton
Honorable Mentions (3): "White House Black Shutters" by Yvonne Mucci; "Christ Church" by Matt Mitchell; and "John Banning House" by Winifred Way
Mayor Christiansen Choice: "Victorian" by Katie Yost
Iconic Loockerman: "Rain On Loockerman" by Remi Poindexter
Dover Heritage: "October in Dover" by Hyo Lee
THIS is Dover!: New Kid On The Block" by Taylor Collins
DSU Hornet Spirit: "DSU Downtown" by Katie Yost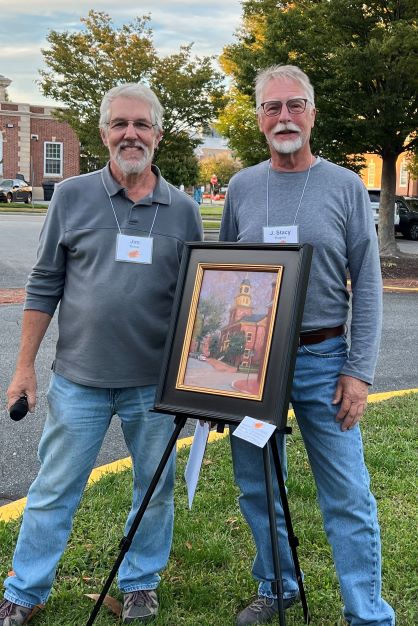 Pictured to the left is artist judge, Jim Rehak, with Best of Show Award Winner, J. Stacy Rogers.
The People's Choice award will be named after October 31, which is the deadline for community members to cast their vote. Visit: https://tinyurl.com/PaintDoverVoting2022
For information about Paint Dover! visit https://tinyurl.com/DoverArt or www.DowntownDover.com For more information, contact Diane@DowntownDoverPartnership.com or call 302-678-2940.
Contact Diane@DowntownDoverPartnership.com for these or additional images.
###
The Downtown Dover Partnership, including its subsidiary Main Street Dover, is committed to driving an improved quality of life for the residents and visitors of Dover, Delaware, through collective collaboration, economic development and promotion of downtown Dover's unique historic properties. Call 302-678-2940 or visit: DowntownDoverPartnership.com