Shop, Eat, Explore, & Repeat

We would like to thank you for taking the time to visit our website and familiarize yourself with our Historic Downtown Dover District. If you are a prospect or existing business person the website will attempt to provide you with most of the information you will need in considering downtown Dover as a potential location for your business.
If you are just a visitor or community member the website will make an effort to inform you of all the programs, events and family-fun special activities occurring within the downtown district. READ MORE
---
Reposting RFP - DDP seeks experienced Property/Real Estate Development Director to recruit developers and oversee build of mixed-use projects as identified within the new Downtown Master Plan
Learn more about the position description, RFP, and steps to apply. Deadline for proposals is June 8. Click read more for further details. READ MORE.
---

Capital City 2030: Transforming Downtown Dover!
Now Available: Links to view the public presentation of the master plan that occured March 22 at Kent Levy Court. The Downtown Dover Partnership (DDP), working in concert with the City of Dover and multiple public and non-profit agencies and led by Mosaic Development Partners of Philadelphia, PA, has finalized the strategic master plan for the heart of the Capital City. The full Master Plan will be available for viewing on/about January 31, 2023. Read more for the Summary and Overview Presentation. READ MORE
---

The new Critical Improvements Program supports downtown Dover projects that provide life safety features, ADA compliance, establishment of commercial kitchens, and additional improvement projects. READ MORE
---
Downtown Dover Dollars Gift Card Program
"Keep Local Dollars Local!" Purchase a Downtown Dover Dollar gift card for use at 23 participating downtown locations. READ MORE
---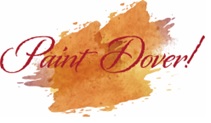 The fifth annual Paint Dover! 2023 event will take place Oct. 3-6. Register today for special pricing until Sept. 1! Visit the page to learn more and view the virtual exhibitions from previous years. READ MORE
---